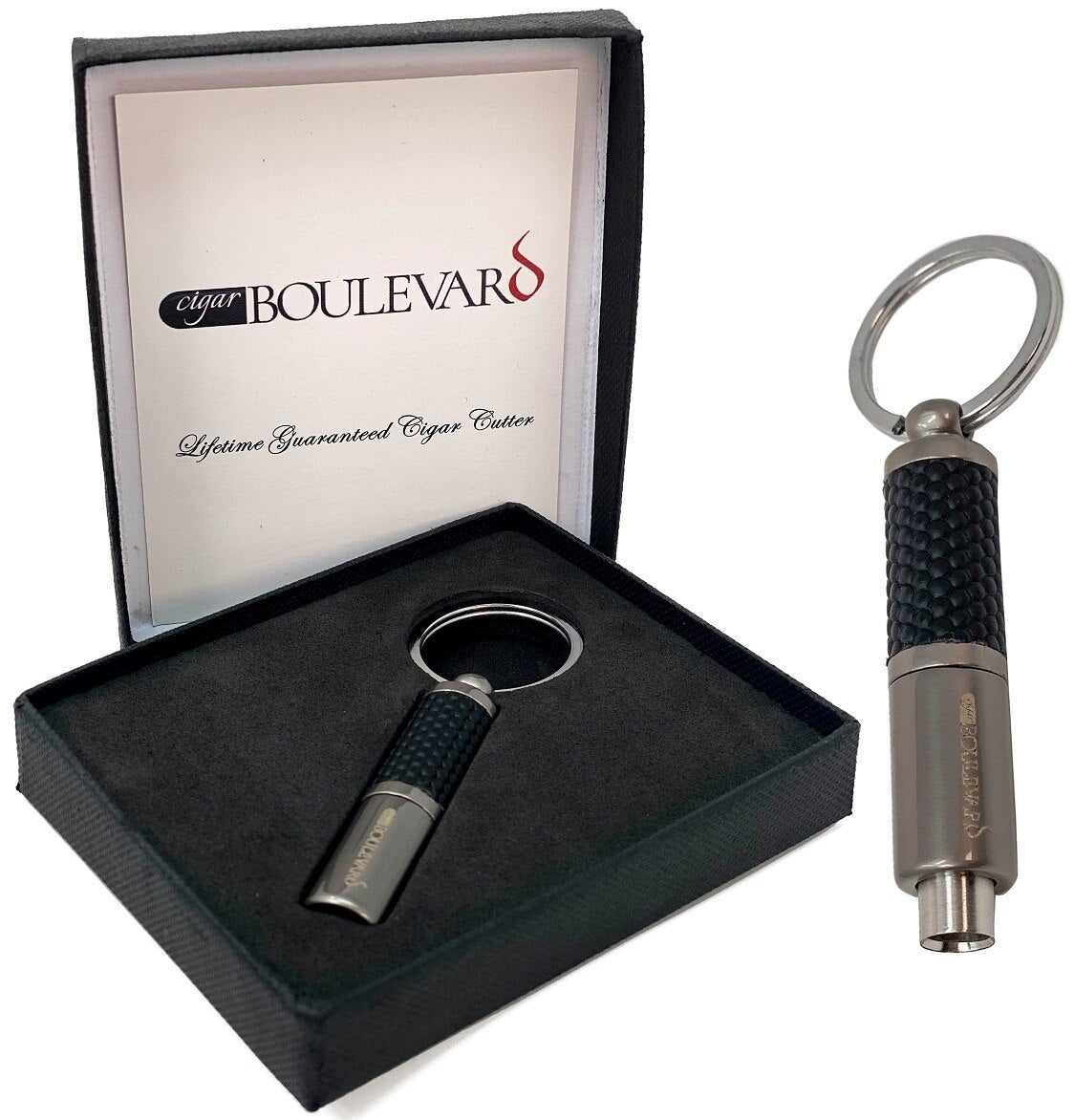 CIGAR BOULEVARD COLLECTION
Cigar PUNCH Cutter Rubber Grip Gunmetal
Gunmetal punch cigar cutters have a solid body with a soft rubber grip that makes it easy to use. They are the best punch cigar cutters that you'll ever use. Its stainless steel blade pops out for easy use when you twist it. After punching a hole in the cigar's cap, twist the cutter's body and the blade retracts, ejecting the tobacco.
With a gunmetal enamel solid body, rubber grip around the body and surgical grade stainless steel round blade, your cigar will have the best cut you've seen every time. This cigar cutter is small, conveniently portable and has a matching key ring. It comes in a black gift box and is lifetime guaranteed.
Cigar Boulevard Punch Cigar Cutters are designed to fit precisely in your hand during the precision hole punch process. They are elegant and when not in use fits in any pocket. Cutting your cigar correctly means you will have a better tasting smoke, so do it right. Just place the sharp round blade of the cutter on the cap of the cigar. Insert the blades into the cigar and rotate the cutter. Do not insert it deeply.
The object of the cut is to create an ample and smooth opening for smoking. This allows you to draw evenly, which in turn creates an even burn. The surgical grade stainless steel blade of these punch cutters allow you to do this without causing damage. Remove the blades from the cigar and retract the blades back into the cutter. It is made to function exactly as expected every time and is fully backed by an exclusive lifetime guarantee.