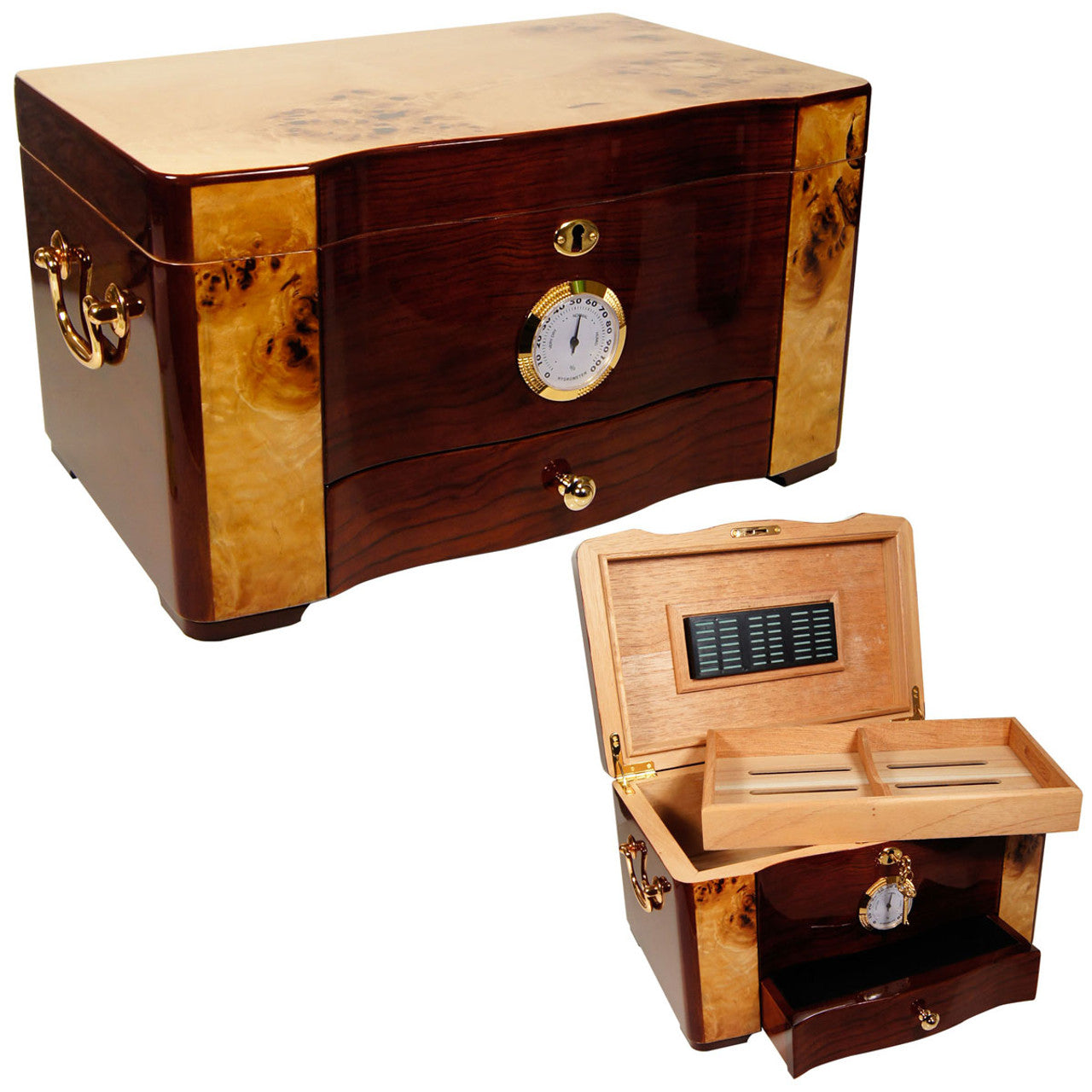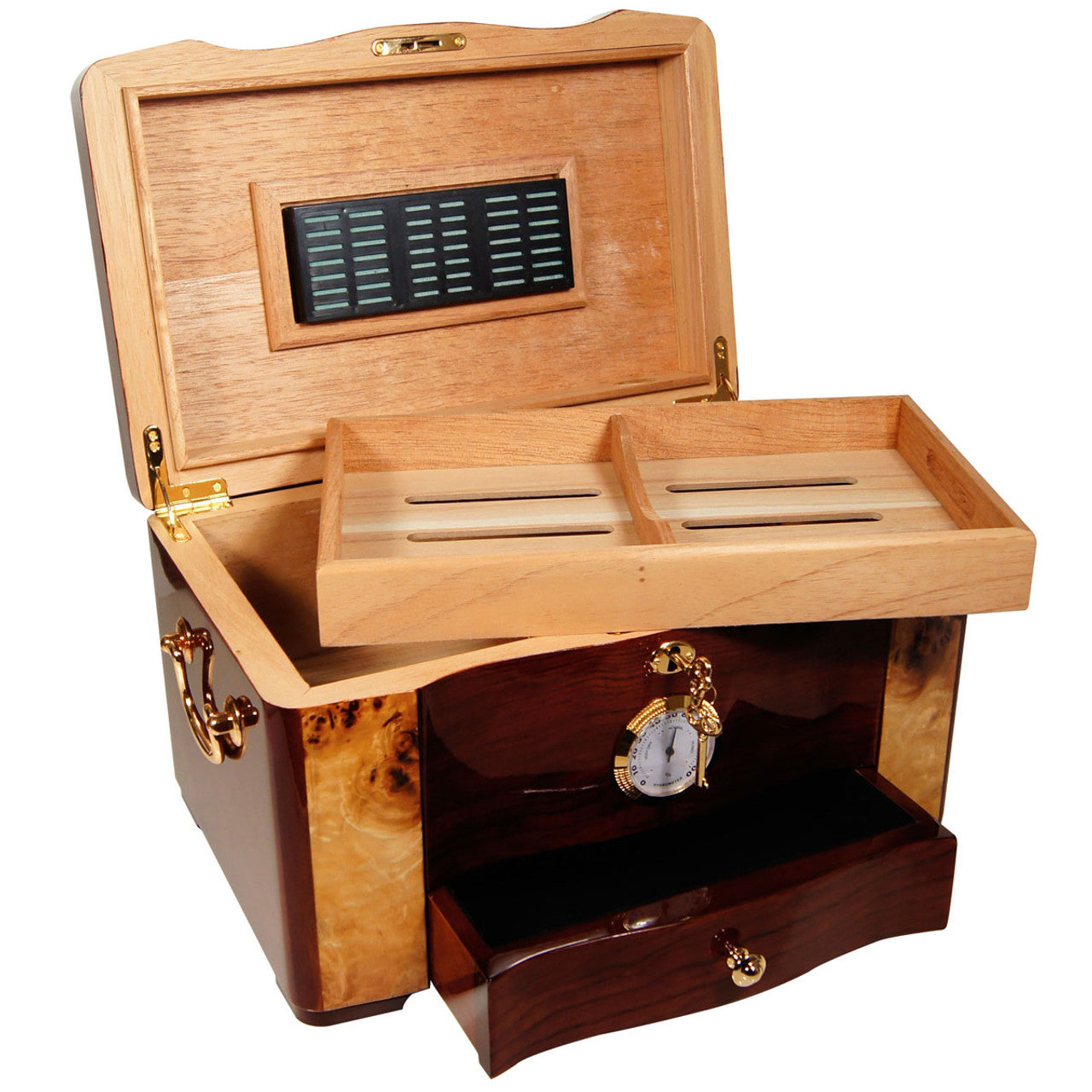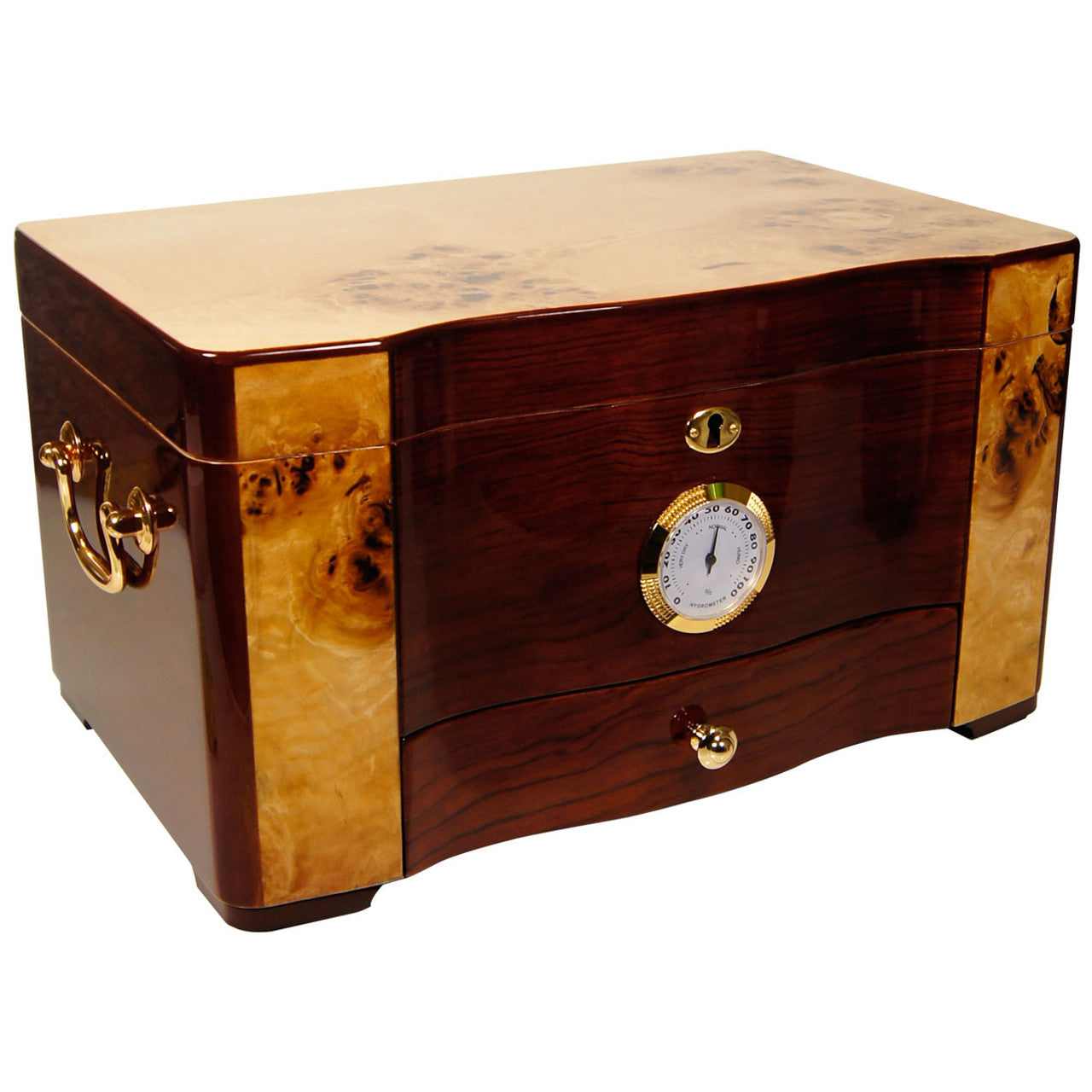 CUBAN CRAFTERS
Cuban Crafters Elegance Best Humidor for 150 Cigars
$269.99 $289.99
CCH-CUBANELEGANCE
 Cuban Crafters Elegance Best Humidor for 150 Cigars BEST HUMIDOR PRICES ON OUR FINEST CIGAR HUMIDORS. This cigar humidor is definitely one of our best. Fine handcrafted artistry is the only way to describe CUBAN ELEGANCE Humidors. Without a doubt they are elegant masterpieces that add to the décor of any room in your house. The superior Rosewood exterior is complimented by the authentic Birdseye maple burl top and front inlays. The High Gloss Piano shine is the result of 12 coats of lacquer. With a capacity of 120 cigars, this incomparable humidor features an external brass hygrometer that lets you see the humidity level without opening it, a felt lined accessory drawer, a Virgin Spanish cedar aerator tray and removable dividers, gold plated handles, hidden quadrant piano hinges, lock and key, a humidification system and much more. With its smooth curves, excellent ability to keep your cigars in perfect smoking condition and the best guarantee in the industry, CUBAN ELEGANCE is among our top selling high end humidors. Not only because of its beauty but also because of this incredibly low sale price. Outside Dimensions are 15" x 9 3/4" x 11 1/8".
Cuban Crafters Humidors are an excellent value. Our entire line of humidors is specially designed to combine detailed craftsmanship with authentic Spanish cedar. Our goal is to provide the perfect environment for your favorite cigars. The enthusiast can now have it all, high quality and the best discount prices, all with our full satisfaction money-back guarantee.
Cuban Crafters Recommends that you activate your new humidor with Cuban Crafters Activator and Maintenance Humidor Solution. This 50/50 solution of high grade Propylene Glycol and pure distilled water helps the humidifier automatically stabilize the humidity at an optimum level of 70% and also actively prevents the formation of mold and bacteria in your humidor.